Boost your LinkedIn profile with a Cover Story video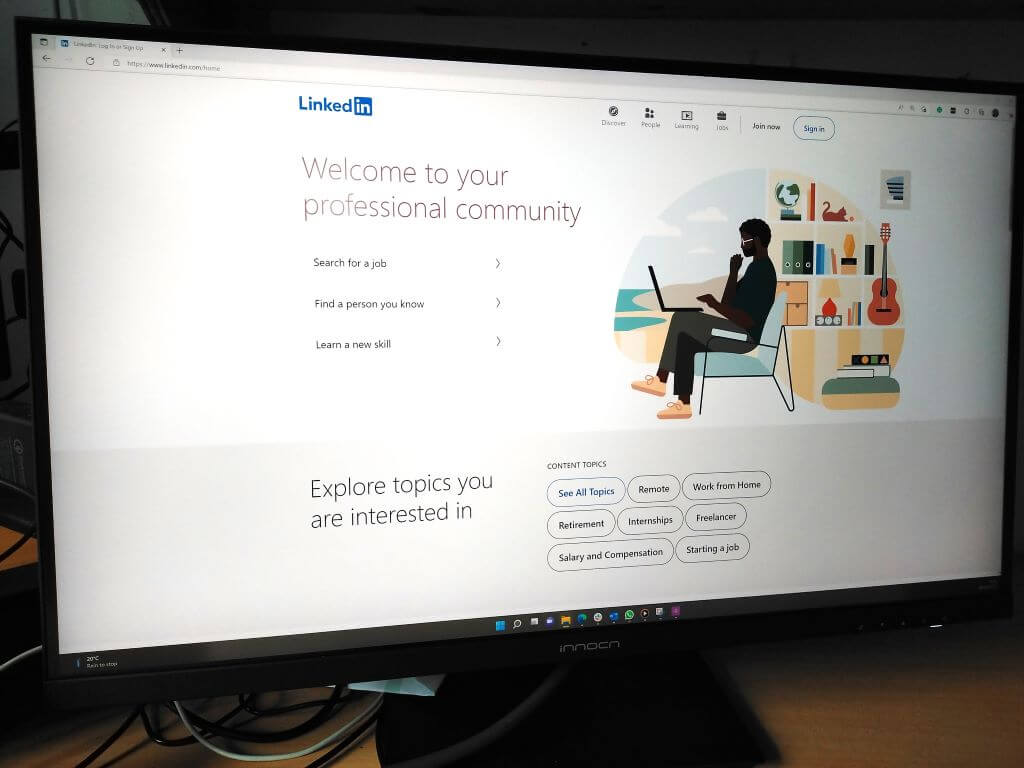 LinkedIn has quietly introduced a new feature for its members that could help your brand and your business – Cover Stories. Cover Stories allow you to create a video clip showcasing your business and skills. You can add the video clip to your profile and viewers can see your video when they click on your profile.
As a small business, this video addition to your profile could enhance your personal and professional brand and help you attract more customers. And the great thing about Cover Stories is that it's not only available to Premium members. All users who have a profile on the platform can take advantage of the marketing of this feature.
When you look at someone's profile with cover stories turned on, you'll see three seconds of their muted video. Clicking on the video icon will display the entire video with sound activated. You can save up to 30 seconds of video and add it to your LinkedIn profile for everyone to see. Unfortunately, profile videos are currently not available for members accessing the platform from China.
Save LinkedIn Cover Stories
You can only save the video clip and upload it from the LinkedIn mobile app, not from your desktop. To upload a video using your mobile device, go to the LinkedIn app and find your profile picture. Click the plus sign on your profile picture and tap "Add profile video". Make sure you have camera and microphone enabled for LinkedIn before recording.
You don't need to do a live recording for your profile directly from your mobile device. You must upload a minimum of three seconds up to a maximum of 30 seconds from your phone. However, you don't need to do a live recording for LinkedIn directly from your mobile device. I recorded my LinkedIn cover story using the video feature of the Windows Desktop Camera app and transferred the video to my Android phone using OneDrive.
If you are recording the video from your phone, once the recording is complete, you can preview the video by tapping the "visibility" icon at the bottom left of your mobile device screen.
Next, set the audience to "All LinkedIn members" or "Connections only" to select who you want to see your video. If you want to attract new customers, set the audience to "All LinkedIn Members". Finally, when you're happy with the video, tap the "Share to Profile" link on the "Adjust Preview" page.
My friend Allister Frost also uploaded his cover story and gave me permission to use screenshots from his profile. You can see his normal profile, and when you hover over the roundel in his image, you can see the muted three-second preview of his cover story.
Clicking on the badge will open the entire video in a new window that will play with the associated sound.
If you want to answer a question about your video, select "Add prompts". This will allow you to answer a question about your work. You will receive prompts such as "What is your mission or purpose?" », « What problems are you trying to solve? or "What's your job like behind the scenes?" ". These prompts will frame the video and allow you to say what you want to say in your video.
You can also add stickers and text to your video if you want and choose a frame or two for your own profile badge. You can choose to keep the original image or select one of two options – either #hiring or #opentowork. Of course, Frost went one better than that and created his own custom frame for his cockade which he uploaded as his profile picture. By the way, LinkedIn, the ability to customize your badge frame would be a really good idea for influencers to make their profiles stand out from the crowd.
Adding Closed Captions to LinkedIn Cover Videos
You can also add Closed Caption SRT (SubRip Subtitle) files to LinkedIn so viewers watching in silent mode can see the video's subtitles. You can use a tool like Round Where Subtitle to generate the SRT file to add the captions to the LinkedIn video
If you want to add captions to your video, switch to LinkedIn for Desktop. Click your profile icon at the top of your page and click "View Profile". Next, click on your profile picture in the intro section and select "View or change profile video". Click the "Subtitles" icon, upload your SRT file using "Select Subtitle File", then preview the subtitles and upload them.
Of course, you don't need to add captions to your video, but if you want to make sure everyone can see your message, whether it's muted or not. Definitely worth considering if you want to connect through the LinkedIn platform.
A well-crafted cover story could enhance your LinkedIn profile and let people see who you really are behind the words and static image of your profile page. And it could bring you more business and really expand your brand.
Share this post: